Veronica Fuller has been sewing for more than 40 years. It's what she loves to do.
The owner of Sandia Pet Products migrated from Juarez, Mexico, 32 years ago and began working in sewing production facilities around Albuquerque, lending her expertise to manufacturing companies like Southwest Creations Collaborative, Marpac, and Sierra Peaks Corporation. In her off hours, she did custom sewing jobs from her garage. She made pillows, clothing, and more.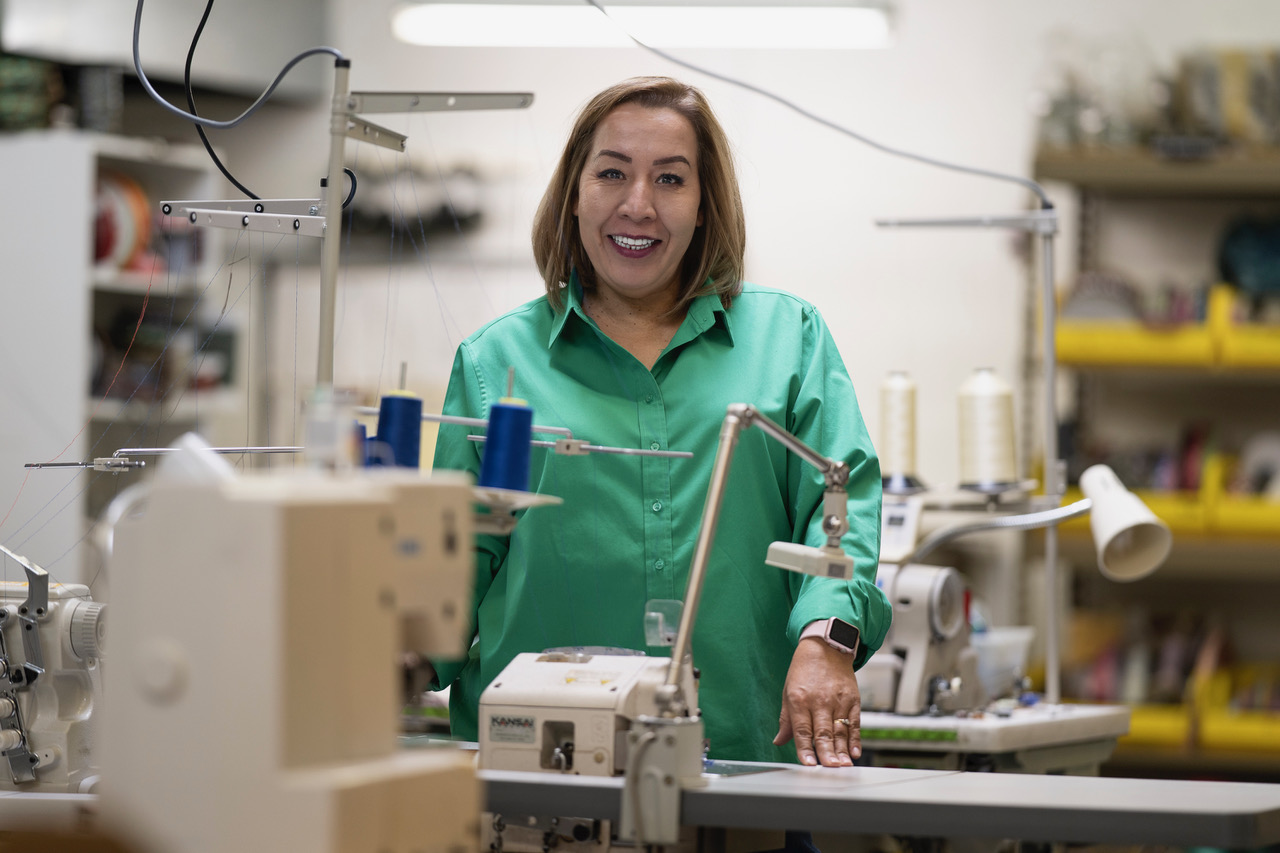 "I made whatever they wanted me to make," she said.
In 2022, Fuller was offered an opportunity: Her employer, the founder of Sandia Pet Products, was ready to retire from the 30-year-old business and turned to Fuller and another worker with an offer to buy the company.
Fuller's colleague was not interested but Fuller jumped at the chance to take over the wholesale business that specialized in dog collars and leashes.
"I started asking questions and looking for loans," said Fuller. "I asked [my former employer] Susan from Southwest Creations, 'do you know of people I can borrow some money from?  I'm a woman and I'm a Mexican.'" Fuller was directed to WESST, a business development organization that offers capital and technical assistance. "I called WESST and WESST gave me the loan."
WESST requires its borrowers to participate in business skills workshops, and that's where Fuller first heard about New Mexico Manufacturing Extension Partnership (New Mexico MEP), another organization that assists businesses like hers. When New Mexico MEP was recommended by one of her customers in Gallup, Fuller contacted the nonprofit organization.
New Mexico MEP innovation director Denise Williams identified gaps and began working with Fuller to improve cash flow and workflow by reducing waste. Old inventory was trimmed, computer files were updated, and systems were put in place to track orders, customers, and processes.
Fuller appreciated the help. "I'm not a computer person," she said with a laugh. "I prefer to be at my sewing machine."
When Fuller bought the business, it came with four machines and focused exclusively on pet products. "But because I had 25 industrial machines in my garage, I brought all those machines to the business," said Fuller.
The machines, each one distinctive, enable different stitch patterns, thickness capacities, thread coverages or other capabilities that allow Fuller and her staff to work on a wide range of products.
And that staff includes Sonja, the 20-year employee who when offered an ownership position by the company's founder preferred to focus on production rather than business management. "Sonja stayed with me," Fuller said. "I'm so lucky."
Fuller also appreciates that New Mexico MEP's Williams helps get the word out about the company's expanded capabilities. "Denise knows a lot of people and she passes along the information. For example, when someone needs to make 20 scarves or 20 jackets, she spreads my information."
Pet products continue to be a major line, and the company is the exclusive manufacturer of pet products sold through the New Mexico Lobos and New Mexico United Soccer sport teams. All products, except those sold to the American Society for the Prevention of Cruelty to Animals (ASPCA), carry the Sandia Pet Products label and a New Mexico TRUE sticker certifying their New Mexico origin.
In the 12 months Fuller has owned the business and expanded its capacity, customer base, and product lines beyond pet products, sales have tripled. Fuller isn't finished growing. Her sights are now set on making costumes for the film industry.
"I just like to sew," said Fuller.  When I make something, I can't make it crooked, or I can't sleep."
Retailers interested in custom sewing can call Fuller at 505-875-0426. Pet owners interested in purchasing Sandia Pet Product's leashes, harnesses, collars, and pet clothing should visit pet stores like Teca Tu in Santa Fe and Duke City Doggery in Albuquerque, which retail its products.