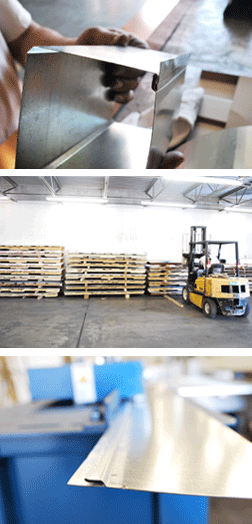 Though Albuquerque's Midtown Metal was known primarily as a metal fabricator of roofing materials, they had the capacity to produce metal products for all architectural and building needs with quick turnaround, and in a variety of colors and finishes. By 2016, the company saw an opportunity to grow their product line to better include all aspects of the building envelope. And they also recognized that such growth heralded big changes that would require significant time and resources to implement.
Management turned to New Mexico MEP for help performing a medium growth services assessment. In part through activities that helped the team shape their objectives and strategies, that partnership initially yielded an overview of strategic planning and structured discussions to shape a vision/mission statement.
Using the vision/mission statement as a beacon, NM MEP identified five key business objectives and the associated strategies for Midtown Metal to meet their goals. With strategies guiding a three- to five-year plan, NM MEP created a high-level roadmap identifying actions that would be needed the following year. As Midtown Metal approached the end of 2016, they had completed the following actions:
Increased automotive assets by $13,500
Increased machinery/equipment assets by $32,005
Added two new employees to the fabrication shop, and implemented a split shift to meet increased production demands
Added a BIM Modeler/Estimator to the front office in order to deliver additional BIM, CAD, and material packaging services
Added an Administrative Assistant/Office Manager to handle additional paperwork and data entry
Added to their menu of services BIM/CAD Submittal packages, LIDAR Scanning and Field Dimension Services; and Lump Sum Package Estimating
By the end of 2017, these changes and continuous focus on other growth strategies resulted in a broadened customer base, a 23% increase in sales volume, and a 49.2% increase in gross profit.
"Watching them work together as a team and taking the time to shape the future for their company was very rewarding," said Innovation Director Ursula Slavens. "I am confident they will lead their company to success and achieve their mission to 'develop the highest skilled designers and fabricators that produce leading-edge metal products and building envelope solutions that surpass customer expectations and add value to the building industry.'"
"It was a pleasure working with NM MEP with Ursula Slavens. She's a highly talented strategic thinker who helped us focus our goals and strengthen our efforts in sales and manufacturing processes. We developed long-term visions with realistic aspirations that are made achievable through NM MEP."
– General Manager Sam Johnson