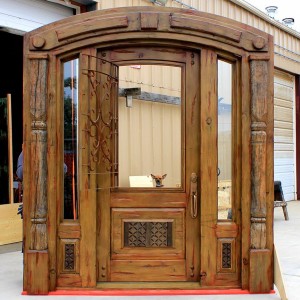 La Puerta Originals is a family-owned and -operated company located in Santa Fe, New Mexico.  The business evolved out of founder Scott Coleman's combined love of art, architecture and world travel.  As Scott began collecting discarded doors, columns, beautifully carved wood, ironwork and other building materials, word spread about the unique architectural elements of La Puerta's products.
More than thirty years later, La Puerta Originals has the nation's largest collection of architectural antique materials salvaged from around the world and is regarded among architects and custom home builders as the go-to company for unique, handcrafted wood products. The company's team of highly skilled craftsmen creates one-of-a-kind solid wood custom doors, gates, cabinets, furniture and architectural elements for customers across the country and internationally.
Because each piece and job is unique and represents a lot of detail in finishes, hardware, etc., production planning can be very challenging. Required time and cost estimates rely a great deal on the craft carpenter's experience with estimating hours. If the carpenter doesn't finish the job within the committed hours, the cost to manufacture can't be recovered and profits decrease.  Additionally, it is important that all the job details are communicated clearly to the carpenters in order to avoid mistakes, production delays due to the need for additional clarification and revisiting orders with clients. When a job isn't clearly communicated, the craftsmen and management must backtrack and check details, which results in downtime and rework.
The leadership at La Puerta contacted New Mexico MEP to assist them in making bench times (manufacturing times) more efficient and improving the accuracy and consistency of time and cost estimates. To accomplish this, NM MEP decided to start with a value stream map of the process from design through job completion to understand the variation in the estimating, quoting and manufacturing processes.  Subsequent follow-up included using the 5s system to evaluate the carpenters' benches and analyze common work areas to find and remedy inefficiencies and increase consistency.
La Puerta has made many improvements as a result of New Mexico MEP's assessments. New processes have been implemented, including one for putting jobs on the calendar, a work-order process, an inventory-management process, standardizing expectations with clients regarding requested details, and adding clarity to terms and conditions on customer contracts. The company has also completed 5s's at all workbenches and has rearranged the shop floor for better flow.  Some results the management attributes to these improvements include:
Ordering 30-40% less inventory, which ultimately reduces cost. They are also ordering proactively vs ordering missing items at the last minute.
Rework rate has dropped by 10%, and they are meeting or exceeding clients' expectations 100% of the time.
Productivity has increased by approximately 15%.
Downtime caused by carpenters asking questions or looking for tools/hardware has dropped by 25%.
The shop is organized, with better resource/space utilization and flow. This results in better communication between carpenters, improved employee morale and clients' higher confidence when they tour the facility.
The stability that is brought to the local economy by MEP's guidance for businesses in New Mexico is invaluable. We are proud to offer consistent and long-term employment at fair wages for our skilled workers thanks to MEP's involvement in the streamlining of both our administrative and manufacturing processes. By eliminating "non-value" work, we have been able to do more with less yet still maintain quality and customer satisfaction. We hope to continue our partnership with MEP in the years to come and thank their educated and professional team for all they have done to help us continue to thrive.  — Christina McGrady, Operations Manager, La Puerta Originals
• • •
It has been a pleasure working with the management team and employees at La Puerta Originals.  They have been very eager to learn and apply lean principles at an amazing rate.  Every time I visit their facility, a new improvement has been made or they are experimenting with new ideas.  I can say they have successfully moved to a continuous improvement culture, and I am excited to continue partnering with them in their growth. — Ursula Slavens, Innovation Director, New Mexico MEP