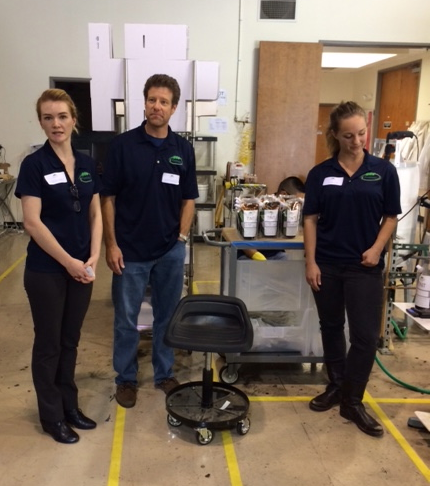 New Mexico MEP is a statewide assistance center dedicated to increasing the competitiveness of our state's small and mid sized businesses.
Our experts and industry resource network help create the change that can make the difference. We provide expertise in results-driven methodologies, best practices, and innovative technologies designed to increase your profitability.
As a public/private partnership, we bring together government, not-for-profit and industry resources to offer the comprehensive programs and services you need.
New Mexico MEP works with several resource partners to provide our services for as little cost as possible.  Below is the price structure for our general services. Please keep in mind that there are several options for companies to have these costs covered through other programs so contact us today to see what opportunities are available for your company!
Workshops and Trainings
Topics include: Lean Manufacturing, Value Stream Mapping, Kata, Cybersecurity, Lean Kaizen, Scaleup, Advanced Manufacturing, Automation, Problem Solving, Leadership, CustomTopics too!
4-hour Training/Workshop: $200/person
8-hour Training/Workshop: $400/person
16-hour Training/Workshop: $800/person
Assessments
Topics include: Lean Manufacturing Tools, Value Stream Mapping, Layout, Teambuilding, Leadership, Growth Services, Innovation, Technology, Kata, and any custom topics you desire!
Small Assessment – generally requires 1-2 days of effort with 1-2 staff: $2400
Medium Assessment – generally requires 3-4 days of effort with 1-2 staff: $4800
Large Assessment – generally requires 5 days of effort with 1-3 staff: $6000
MEP brings CoBots to NM manufacturers
Build With Robots partners with New Mexico Manufacturing Extension Partnership (NMMEP) to introduce collaborative robots to New Mexico's manufacturers. As part of NMMEP's mission to strengthen and grow New Mexico's manufacturing, NMMEP is introducing CoBot technology to give New Mexico manufacturers a competitive advantage through advanced automation.
In partnership with NMMEP, Build With Robots offers CoBot seminars and hands-on CoBot application demos. These seminars introduce New Mexico manufacturers to CoBot automation and show how CoBots are used to automate quickly and cost-effectively. Because CoBots are safe alongside people and can be re-purposed easily, they are a valuable tool for manufacturers with medium-volume or high-mix production. Overall, the partnership between Build With Robots and NMMEP is creating opportunities for New Mexico manufacturers to grow and become more competitive through innovative technology.
RUNNING A BUSINESS IS A 24-HOUR JOB WHICH DOESN'T LEAVE TIME FOR MUCH ELSE
You know resources are available, but you just don't have the time to do the research. Wouldn't it be nice if help were a phone call away? What if that phone call were to someone you already trust?
We know your time is valuable. Focusing on expanding your client base is easier when things are running smoothly.
INCREASE YOUR PRODUCTIVITY
Today's competitive environment makes extraordinary demands on your company's resources, resilience and responsiveness. You must consistently produce better quality products faster and cheaper than your competitors to stay ahead of the pack. Our suite of productivity enhancing services designed to streamline the processes of your facilities and supply chain will help you lower your expenses and
downtime while increasing productivity: