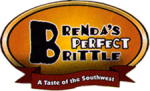 Straight from the Land of Enchantment, the beautiful State of New Mexico, a no butter added tasty treat that makes even "brittle haters" love my product after one taste!
This isn't your grandma's peanut brittle. Brenda is a personal trainer, with a sweet tooth, so between push-ups she reduced the calories, lowered the fat, and added more healthy stuff. Hey, if a personal trainer put her name on it, it must be able to run laps around other sweet treats.
Fluffy, no fat and rich in color without artificial flavorings and with so many different nuts to choose from.