Here's what happened during Manufacturing Month, October 2019:
25 companies in 13 New Mexico communities gave tours.
6 resource organizations in 4 communities held open houses.
547 students attended presentations and facility tours.
13 proclamations were issued by mayors and the governor.
Hosts included lighting factories, food and beverage producers, manufacturers of solar and medical devices, and more.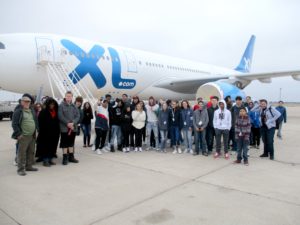 Thank you to the companies and organizations that participated by opening their doors, with special thanks to those who have participated multiple years to show students and the public what manufacturing in New Mexico is all about.
AerSale, Build With Robots, Chocolate Cartel, Continental Machining Company, DACC Workforce Center, Fab Lab Hub, FUSE Makerspace, Glass-Rite, Insight Lighting, Integra Technologies, Just Click Printing, La Primera Tortilla Factory, Curtis & Curtis Seed Company, Pattern Energy, QC Group, MediNatura, Mezel Mods, BNSF Railway, Old Wood, Alaska Structures, MediNatura, SolAero Technologies, Art of Chocolate Cacao Santa Fe, Marty's Meals, Valencia Flour Mill, Private Label Select, Black Mesa Wineries.
In addition to the above-mentioned, more than 35 companies and service organizations participated in Conversations at a Crossroads; a full-day exhibition-style fair held in Cuba, New Mexico. Thirteen summits, fairs, and workshops such as this were held in 8 communities.