Working with New Mexico Manufacturing Extension Partnership (New Mexico MEP) shaved at least a year off the time RingIR president Dr. Charles Harb expected to spend getting his company's portable gas-detecting product ready for market. And given the disruption and delay caused by the state's protracted coronavirus-related shutdown, the value of that time is hard to calculate.
"We were working with (New Mexico MEP) on a business plan just before COVID hit, and everything got shut down," said Harb, who runs the company with his wife and co-founder, Anna.
The couple launched the business in California in 2013 to commercialize the wideband optical spectrometer Harb had developed at the University of New South Wales in Australia to detect airborne chemicals.
Two years later, RingIR contracted with Australia's defense department to provide a product that could help security services quickly and safely detect explosives. This opportunity underscored the vast market potential of a device that can identify and measure trace amounts of volatile organic compounds and other harmful atmospheric gasses.
The couple moved to New Mexico in 2016 and established company headquarters at the WESST Enterprise Center in Albuquerque, where they first heard of New Mexico MEP.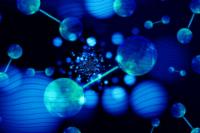 The machines currently used to detect and measure atmospheric molecules are large and expensive, Harb said. The RingIR device is the size of two lunchboxes, which makes it portable, and it can accurately discern a gas's molecular fingerprint in seconds.
"We grow up in an atmosphere and take for granted that it's safe," he said. "But a lot of chemicals dull the senses after the first whiff. And (the air) can be dangerous depending on what's in it."
Because this tool can identify airborne toxins on the spot, government regulators and employers could use it to improve safety for oil and gas workers, first responders, soldiers, and the public, Harb said. The National Institutes of Health has already used RingIR's technology to screen for coronavirus at two American hospitals and might continue that relationship as part of its Rapid Acceleration of Diagnostics (RADx) initiative.
Before the company can begin manufacturing, however, it needs customers, and that required the Harbs to find a simpler and clearer way to describe their product.
That's where New Mexico MEP innovation director Scott Bryant got involved.
"We could try to sell to everyone, but Scott did a business evaluation to look at beachhead markets," Harb said. Bryant rapidly assembled communications materials and encouraged the Harbs to target a few clients so they could begin selling and manufacturing.
With New Mexico MEP's help, Harb said, "we shortened the time (to the sales stage) by more than a year, and we learned things we otherwise would have had to learn painfully. The guidance really made us understand the approach to markets."