Process Equipment and Service Company Inc. (PESCO) has been sending its new-hire employees to lean manufacturing workshops for years. The practice has paid off, according to Craig Mayberry, PESCO's Manager of Manufacturing Excellence.  The 50-year-old engineering, design and manufacturing company that serves the on-shore oil and natural gas industries from its Farmington headquarters is one of the fastest growing companies in New Mexico. PESCO employs more than 400 people who serve customers in the United States, Australia and Latin America.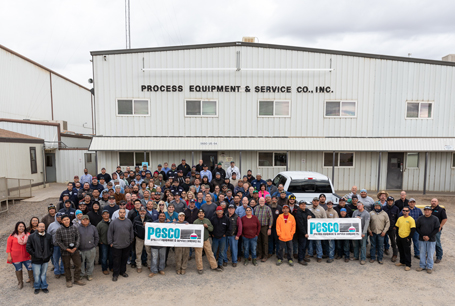 New Mexico Manufacturing Extension Partnership (MEP) offers the Fundamentals of Lean Manufacturing workshop every month at its Albuquerque training center. But when an employer is interested in a group training, New Mexico MEP will often take the workshop on the road. For example, the PESCO trainings have taken place at San Juan College, as well as at the PESCO facility.
Mayberry said PESCO sends groups of 10-20 recently hired employees to the workshops and it pays participants to attend. "If we have a new-hire who has been here six months, then we make that investment," he said.
And the investment is a good one, he said, because it helps employees understand the company's culture of continuous improvement.  "We're interested in sustaining the culture we have."
"The workshops help people think about the work they're doing," he said. "Lean training opens their eyes. People begin to understand that a few small changes can make a big difference."
Workshops also help the company build relationships, a core tenet of the organization, according to its website. Relationships are especially important when changes occur. "People can take things personally," said Mayberry, "and this idea about relationships is part of the training. We teach them to focus on process, not the person. People can look forward to change."