Join the conversation and see what's being made in Aztec and the northwest region of New Mexico!
This virtual event is a collaboration of manufacturers, support organizations, and educational groups.
The program will feature remarks from the City of Aztec and State of New Mexico Economic Development Department, and special presentations from industry partners such as SkillsUSA New Mexico, Sandoval Economic Alliance, Girl Scouts New Mexico Trails, New Mexico Energy Manufacturing Consortium (invited), and more. A variety of local manufacturers and small businesses will also be showcased during the presentation.
Join the live presentation Saturday, October 3, 2020, from 9:00 am – 11:00 am on Zoom. (Register here through our partner WESST.) And find a recording of the event here, beginning Monday, October 5.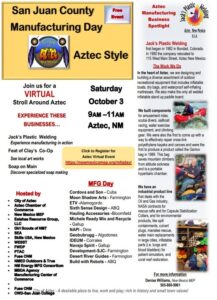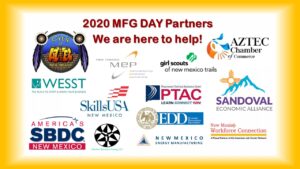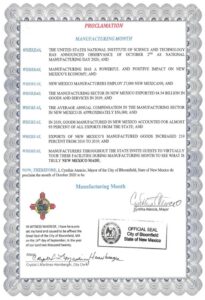 Presented with the appreciation of San Juan County and area manufacturers shown here.