New Mexico MEP 2018 Economic Impacts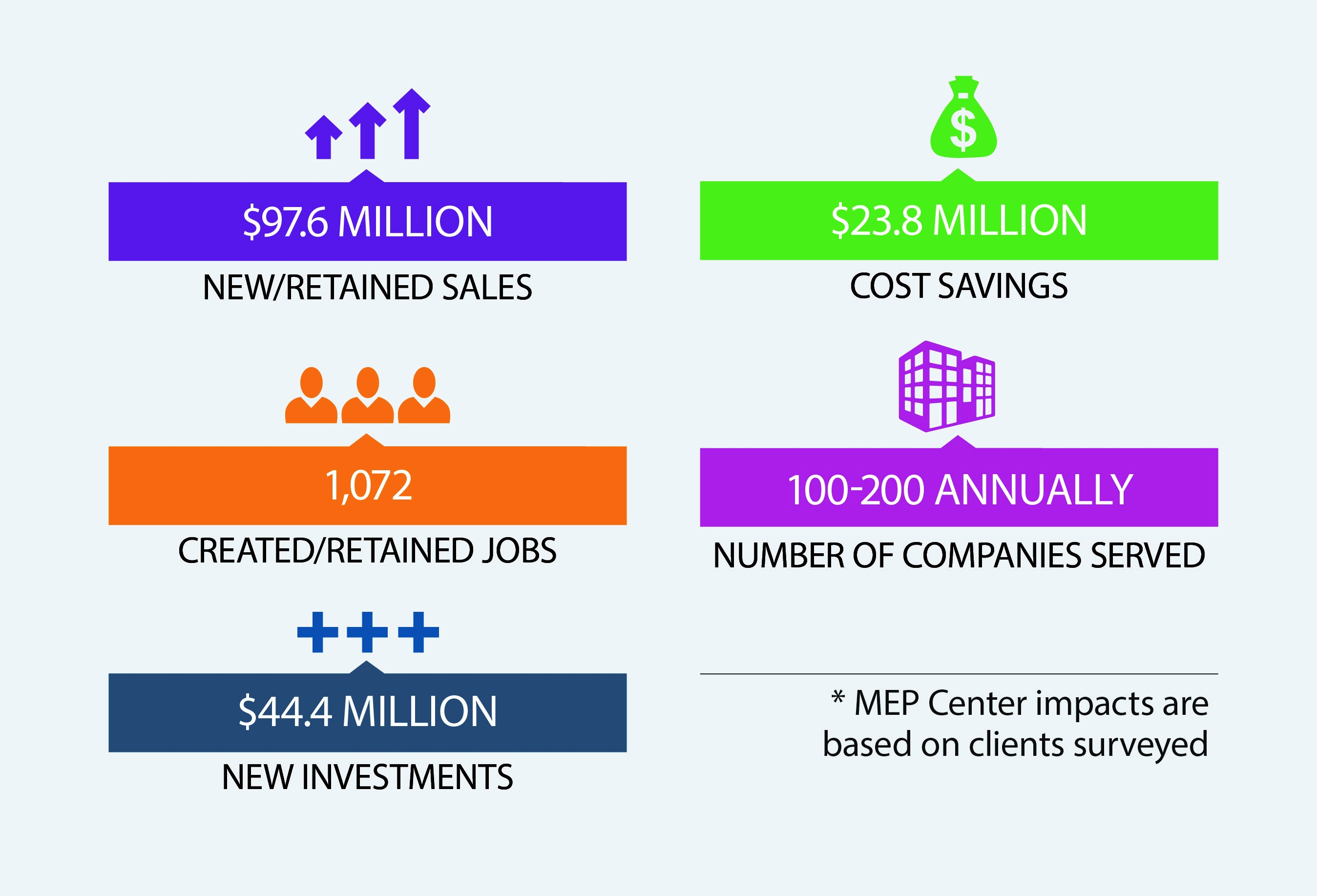 New Mexico MEP is part of a national network of:
425 field locations
Over 1,300 MEP experts
More than 2,000 partners
SUCCESS STORIES
Midtown Metal's MEP-guided roadmap to greater capacity
Midtown Metal of Albuquerque had made a name for themselves in the roofing industry, but much more was at their fingertips. The metal fabricators had the capacity to expand their product line to all aspects of the building envelope. And for help developing the objectives and strategies that would shuttle them through comprehensive changes, they partnered with New Mexico MEP. > Read story
A bundle of transformation tools that can save a bundle of money
In the center of a company's Lean transformation — surrounded by the busywork of standardizing processes and eliminating inefficiencies — lies "the Why." Bringing all employees into an understanding of Lean Manufacturing philosophy and the larger view of all operations allows for staff-wide participation and innovation. New Mexico MEP's partnership with Certified Packing & Crating enlisted the power of belief-system messaging to create profitability. > Read the story
Lean Laser Focus: OptiSource
"The system will talk to you and tell you what to do, if you just listen," says OptiSource's Cindy Romero. The Albuquerque company has made many capacity-building improvements in recent years with the guidance of New Mexico MEP. Understanding processes and identifying areas of improvement have been key. > Read the story
---
The MEP national network *
Reduces the Deficit
For every one dollar of federal investment, MEP generated $27.2 in new sales growth and $27.3 in new client investment (FY 2017).
This translates into $3.5 billion in new sales annually.
For every $1,291 of federal investment, MEP creates or retains one manufacturing job.

---
The manufacturing industry *
Creates & Retains Well Paying Jobs
12.33 million U.S. manufacturing workers (9 percent of the workforce)
$83,023 average annual earnings per worker (salary & benefits)
Makes America More Competitive
Manufacturing companies performed $221B (69 percent) of domestic R&D.
By 2020, U.S. manufacturing is expected to be ranked the most competitive in the world.
Three-quarters of all manufacturers have fewer than 20 employees.
* Per most recent data at http://nist.gov